Grow your own Carrots and Radishes!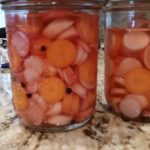 Pickled Radishes & Carrots
2017-02-03 10:12:27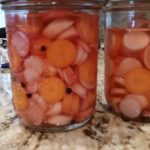 Great way to preserve those garden fresh veggies.
Ingredients
10 Radishes sliced thin
2 medium carrots sliced thin
10 garlic cloves left whole
1 tbsp whole black peppercorns
2 cups white distilled vinegar
1 tsp kosher salt
1-2 tsp sugar
Instructions
Add carrots, radishes and garlic to clean 1 quart mason jar.
Add vinegar, salt, sugar, and peppercorns.
Cover and shake until sugar and salt dissolve.
Refrigerate at least 3 days, shaking once a day.
Can be made 1 month ahead of time, the flavor mellows and gets better the longer it pickles.
Store in frig.
Notes
Try pickling other garden veggies like cauliflower, beans, turnips and more.
Growin Crazy Acres https://growincrazyacres.com/