Drawing Up Your Plan
Planning Your Garden for Success!
With the help of the Florida Yearly Planting Schedule and Seed Starting Planner figure out what you are going to grow and when. Once you have done that, you should draw out what you are going to put and where. You can use grid paper or draw one to the size of your garden. I drew this one. I made a rectangle 4″ x 8″ and made a grid of 1 inch squares. 1 inch = 1 foot. (see pic)
We created a downloadable PDF of this same type of grid for you to use. Feel free to download and print as many as you need. The download is available in the right sidebar.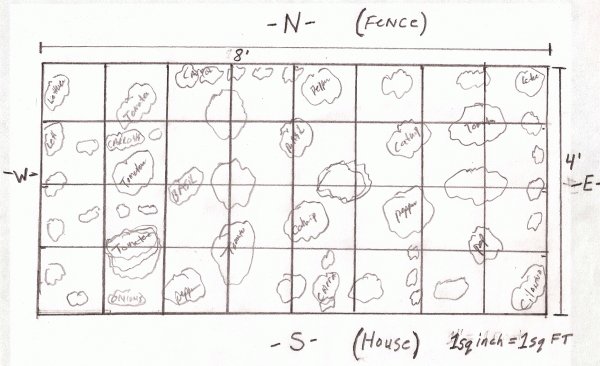 I then figured how much room that each crop needed (see pic above) and drew them in. It really does help figure how many you need of each plant you want to grow. Keep in mind what likes to be next to tomatoes and so on… There is a companion planting guide that I follow. Also which ones need shade and which one will supply that shade or which side is shadier or sunnier.
The drawn plan will also help with future planning so you can rotate crops accordingly and change location if needed. I realized I shaded some plants that needed more sun and sunned things too much that could use the shade. Now I know and adjust for next season.
Every Garden is Different
There are books, guides and plans but good record keeping and note taking season to season on your own garden is most helpful information to have. Don't forget to water. Whether you hand water, drip system or sprinklers, have a plan. I also suggest a soil fertilizer tester. I bought one for only $17.00. It's all I use. It registers fertility and PH. I have found it very useful. Go to the Garden Store page to order yours.
Here is a Plant Spacing Guide